Raising Aspirations
At Holy Trinity pupils learn Latin.  Latin is taught by a specialist teacher from The Latin Programme.  The Latin Programme delivers fun, high-quality lessons to our Key Stage 2 classes that encourage creativity in the classroom, and provide opportunities to explore the many ways the ancient Romans continue to influence our modern world.
The Latin curriculum is designed to support a range of skills and
approaches to language learning, incorporating creative writing and art, numeracy, drama, ancient history and problem solving.  Our specialist teacher uses these links to other areas of the curriculum to make the subject relevant to our pupils.
Reaching Our Potential
We aim to give our pupils basic language learning skills that can be applied when learning any language.  (Our pupils go on to attend a variety of secondary schools, all of whom teach different languages).  As the foundation for many languages spoken today, Latin provides a springboard from which pupils can learn any of the Romance languages at a later stage and therefore helps a broader range of pupils in reaching their potential.
Many of our pupils speak English as an additional language and often those languages have a Latin base or include Latin vocabulary.  Learning about Latin raises their self-esteem and provides an opportunity for them to share their knowledge.  Pupils also receive a firm grounding in Latin grammar that can be applied more broadly when writing in English.  In fact, the Latin Programme pride themselves on developing a curriculum that also aims to improve literacy in English.

The Latin Programme regularly complement lessons with exciting visits by professional storytellers.  These exciting oral performances of Roman and Greek myths bring the subject to life and really engage pupils.  This is essential if they are to reach their potential.
Our specialist teacher also runs an additional enrichment group for some key stage 2 pupils, in which more advanced linguistic skills are developed through problem solving in a range of world languages.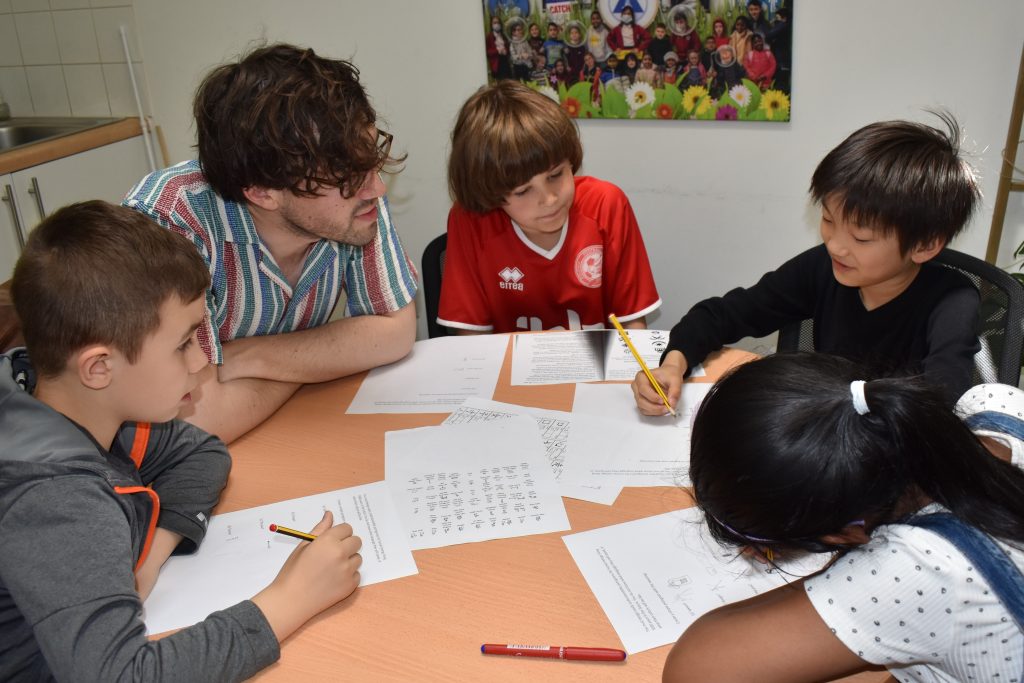 Learning to Live Well Together
Pupils learn that Latin is the basis of many languages spoken in Europe and explore its diverse linguistic history up to the present day.  They are also encouraged to explore how linguistic diversity has shaped the speech communities at Holy Trinity and the local area.  Moreover, exploring a language with a wide historical and cultural influence broadens pupil's minds to the interconnectedness of the world's many languages and opens up opportunities for them to engage with new linguistic environments with authority, confidence and respect.